Top Grey Limestones for Flooring in 2020
Grey colored limestones have gained immense popularity in the past 10 years and are now a preferred choice for numerous construction and decoration projects all over the world, due to its consistent color and trend towards cold colors and patterns on architecture. 
Grey limestones are used on numerous applications, ranging from exterior cladding, to interior decoration, wall coverings, masonry. But perhaps the application that is the most popular use for this type of limestone is found on interior flooring. We present here our top selection of current grey colored limestones that are suitable for such use.
1. Peniche Blue
The Peniche Blue is today one of the main alternatives to the famous Azul Valverde limestone, also known as Lagos Blue limestone. In Portugal, this is one of the most important grey colored limestones that also have relevant reserves for extraction. We are talking about a grey limestone with brownish color tones, medium grain, which can present strong signs of fossils and calcite, depending on its variation. This type of limestone is mostly used on interior applications, such as flooring, wall coverings, staircases and similar uses.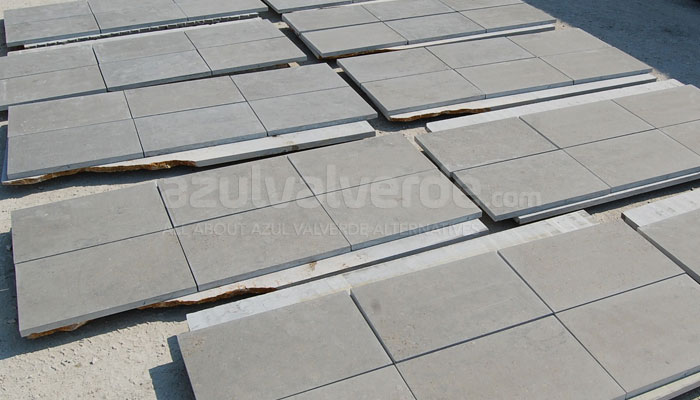 2. Jura Grey
As one of the most well-known and versatile limestones in the world, the Jura Grey limestone is an authority in the market. We are talking about a cold grey limestone, with strong signs of fossils and calcite. This German limestone is very hard, which makes it very suitable for numerous applications, both interior applications as well as for exterior applications. The Jura Grey limestone is a fantastic limestone that has had tremendous popularity and high demand, and more often supply has not been able to keep up with rising demand from all over the world.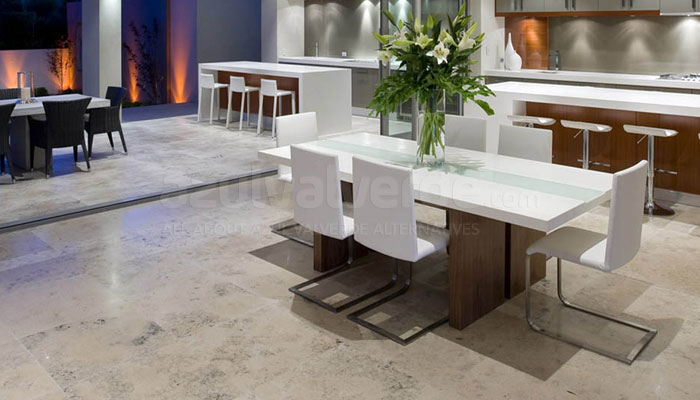 3. Cadoico
The Cadoico is a fairly new limestone in the market. Being originally extracted by a couple of small sized quarries, it is today becoming a serious reference grey limestone. Its extraction has increased exponentially and there is today more quantity available of this limestone in the market. The Cadoico is a Portuguese limestone with darker grey color, consistent color, medium grain and occasional signs of calcite and fossils. Like the Jura Grey, the Cadoico is a hard limestone that is used on both interior and exterior applications, such as flooring, cladding, decoration and much more.
4. Moleanos Blue
The Moleanos Blue limestone does not need much introduction. Together with its beige brother the Moleanos Classic, the Moleanos limestone is a worldwide reference limestone that has been widely used on numerous projects. The Moleanos Blue limestone presents a pale grey bluish color, medium grain and consistent background. This is another hard limestone that can be used on numerous applications on interior and exterior. This is an ideal limestone to be used on flooring applications, most notably if used in interior flooring with low to moderate use.
5. Bateig Blue
A well-known Spanish limestone / sandstone, the Bateig Blue presents a light pale blue color, which is characterized by its fairly uniform background. This is an incredibly uniform stone that is also quite versatile in terms of finishes, allowing a wide diversity of textures. The Bateig is a well-known Spanish limestone whose extraction is mostly controlled by one single quarry: called Bateig. This type of stone is mostly used on vertical applications such as cladding and wall coverings, but also diverse stonework and decoration. It is also popular to use on interior flooring applications with specific surface finishes.