The Azul Valverde is a well-known grey limestone from Portugal that has been used for many years as a reference grey limestone in the market. The area where the Azul Valverde limestone is extracted is also known for its famous ancestors. We are talking about dinosaurs that populated this area more than 175 millions year ago. Today, evidence of dinosaurs steps can be found in several places throughout this area, where quarrying explorations have been closed in order to give place to cultural and historical heritage sites with footprints of dinosaurs. Located in the Serra D´Aire e Candeeiros Natural Park, the Azul Valverde limestone extraction area lies in the district of Alcanede.
Today, the areas where the Azul Valverde grey limestone alternatives are extracted are located in two main areas: around Moleanos extraction area (which is just within the boundaries of the Serra D´Aires e Candeeiros Natural Park) and Lourinha, which is an area located southwest of Serra D´Aires e Candeeiros Natural Park.
The Limestone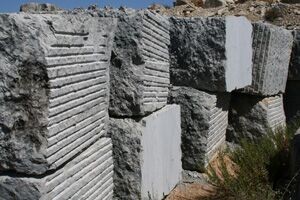 The Azul Valverde limestone is explored around the area of Valverde – Alcanede. It is considered one of the most important dark coloured limestones in Portugal, having achieved international recognition as a grey / blue limestone.
Unfortunately, the extraction of this limestone is basically coming to an end and will soon not exist. The direct alternatives are called Gris Pardo and Moleanos B1, limestones that are well presented on this website.
Constraints
As already discussed, soon there will not be any extraction of Azul Valverde limestone. There are very few quarries extracting the limestone, with limited blocks extraction. The reason for this sad end to such a fantastic limestone is the fact that quarries did not developed in a favourable way and the material extracted in the past few years has been of very poor quality, with large concentration of earth. This compromised the technical capacity of the stone, the look, color, bringing many problems in terms of supply.
There is no real expectation that the Azul Valverde quarries will get back to full activity in the future. Clients looking for this limestone will have to accept its alternatives as the new Azul Valverde.