Lagos Blue Limestone Alternatives
When it comes to limestone, Lagos Blue was a go-to choice for many. It was a popular grey limestone for many years in the United States, but recently the Lagos Blue has not been able to keep up with demand.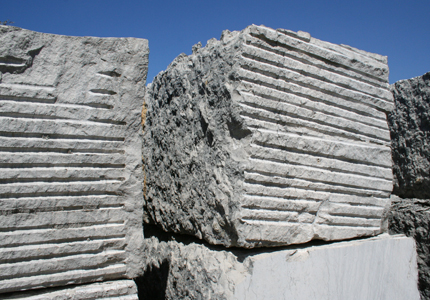 A limited supply from the quarries is a main reason for the lack of supply for the demand. They tended to be too small and shallow to extract significant amounts of Lagos Blue. Along with the supply lacking, the quality has also decreased. It is now difficult to guarantee a regular supply of Lagos Blue that is uniform and at a high quality.
If you like the Lagos Blue limestone, but are having difficulty getting enough for your needs, there are several alternative options for you to use.

Gris Pardo
This is an option that provides a very uniform dark grey color. It is a good choice for interior decoration and flooring. The uniformity and the hue of the Gris Pardo limestone is behind its large international demand.

Gris Perlato
This type of limestone comes from the same quarries as the Gris Pardo. It is mainly dark grey, but also has brown and yellow hues in it. There are many rounded fossils in this limestone, which gives it a very unique appearance. This limestone is also very hard, making it a good choice for both interior and exterior projects.

Jura Grey
This limestone comes from Germany and is relatively hard. You will find a lot of signs of fossils in the Jura Grey limestone. The medium grain and its hard structure make the Jura Grey a versatile limestone. It is good for projects of just about any type and in any environment.
Gris Europa
While this is a dark grey limestone, you will also find varied hues throughout. It has a great look and color to it and is from Ireland. The Gris Europa is in high demand due to its beauty. It is relatively hard and can be great for decoration and small projects.

Moleanos Blue
You will find occasional signs of fossils in this light grey limestone. Moleanos Blue comes from Portugal in is one of the most popular types from the area. The demand all over the world and has a blueish hint to it and comes from the same quarries as the Moleanos Classic beige limestone. This is a great option for flooring – both interior and exterior.
Transylvania Silver
This grey limestone comes from Romania. While it has a pretty uniform background color, this limestone has some unique qualities to it. You will find both softer grey tones and long areas of darker hues. Transylvania Silver contains very little fossils. The varying color makes it beautiful and great for use in your garden or decoration in your home.